The beautiful cathedrals in Germany and Spain were the inspiration for our cathedral window quilt named "When lions hunt zebras".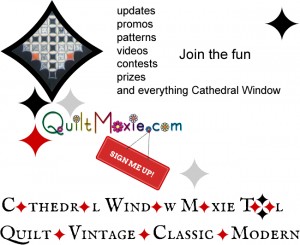 My hubby, who is quilter as well, got excited and asked me if we could do this quilt together. We designed a bed sized quilt to reflect a modern take on the traditional Irish chain pattern interpreted using the cathedral window design and it was sewn entirely on my small sewing machine. Luis chose the fabrics and we began hours of cutting, pressing, sewing and spending time together.
It was not until the quilt had started to come together that my husband noticed one of the cathedral windows was the wrong color. He insisted that we correct it to which I responded that it adds charm to the quilt and, by the way, there is a second one. That is when my hubby mumbled ….it is like the lions hunting zebras …..I asked him, what do you mean? To which he proceeded to explain how lions have a hard time hunting zebras because they are color-blind, they cannot differentiate the stripes of the zebra from their background, and therefore risk their own life when hunting zebras because zebras can kill lions.
We struggled to name our quilt. Serendipity takes over when life imitates art and the quilt told us its own story. When we looked down and saw the spots of orange fabric much like lions chasing the elusive 2 zebras, the name of the quilt came to us "When Lions hunt Zebras" . This was the final touch that transformed the two mistakes into the feature of the quilt.
Our three children were proud to see our quilt in the Chateauguay Valley Quilter 25th Annual Quilt Exposition held May 2013. We were delighted to be awarded the 1st place ribbon by the Canadian Quilter Association.